May 27-29, 2023
|
ALL DAY
Call for Abstracts for the 2023 Bethune Round Table
Dear Colleagues,

We are delighted to open a Call for Abstracts for the 2023 Bethune Round Table!

May 27-28-29, 2023
Hospital for Sick Children
University of Toronto, Canada

The Bethune Roundtable is an annual interdisciplinary meeting hosted at a Canadian academic centre to discuss challenges and solutions to improving surgical care to underserved and marginalized patients locally, regionally and globally.  The objective of the meeting is to bring together health professionals from across disciplines to share their experiences in delivering safe surgery and anaesthetic care in low-resource settings.

The theme of Bethune 2023 is Sustainability in Global Surgery. We have entered the Anthropocene where planetary systems are significantly perturbed by the actions of the human population.  Climate change, pandemics, and other challenges require us to rethink how we engage in every activity – including making surgery available to people who lack it.

The United Nations Sustainable Development Goals assert that attaining health (goal 3) is inextricably linked with all other aspects of social progress.  Addressing the climate crisis (Goal 13) will be a dominant theme for decades.  Collectively, the goals highlight the interdependence of people, planetary, and economic domains in achieving sustainability.

We are seeking submissions of scientific work in global surgery, particularly encouraging work that sheds light on this year's theme.

Specific Objectives:
Understand the relationships between the United Nations Sustainable Development Goals and the Global Surgery field.

Recognize the dominant role of climate change adaptation and mitigation within the Sustainable Development Goals

Consider the unequal burden of climate-associated health impacts globally

Understand how to decarbonize health sector activities.

Acquire tools, technology, and techniques to make Global Surgery sustainable in the people, planetary, and economic domains.
Scholarships to fund the costs of travel to the meeting are available for selected clinicians practicing in qualifying low and middle income countries.

Abstracts should be submitted to bethune2023@utoronto.ca  

The early deadline for submission is January 5, 2023. Please submit by this deadline if assistance with visa procurement or travel funding will be required. Late-breaking abstracts will be accepted up until February 28, 2023.

Please circulate this call to all colleagues who may be interested in submitting work.

With your submission, provide:
Abstract title (maximum 50 words)

Presenter(s), degrees/designations, organization(s)

Abstract (maximum 250 words)
You will be asked to choose two categorizations of your abstract:
Specialty

Anesthesiology

Obstetrics and Gynecology

Surgery

Other

Topic

Basic Science

Epidemiology/Public Health/Health Services

Clinical studies

Education

Health Policy/Advocacy

Other
All proposals will be evaluated according to the following criteria:
Relevance to the 2023 theme, Sustainability in Global Surgery

Relevance to Global Surgery

Originality

Scientific rigor (design, evidence, impact)

Ethical considerations (submissions on work undertaken in a low- or middle-income country must include local authorship)
Sincerely,
Dr. Andrew Howard, Dr. Anna Dare, and Joanna Giddens, 2023 Organizing Leads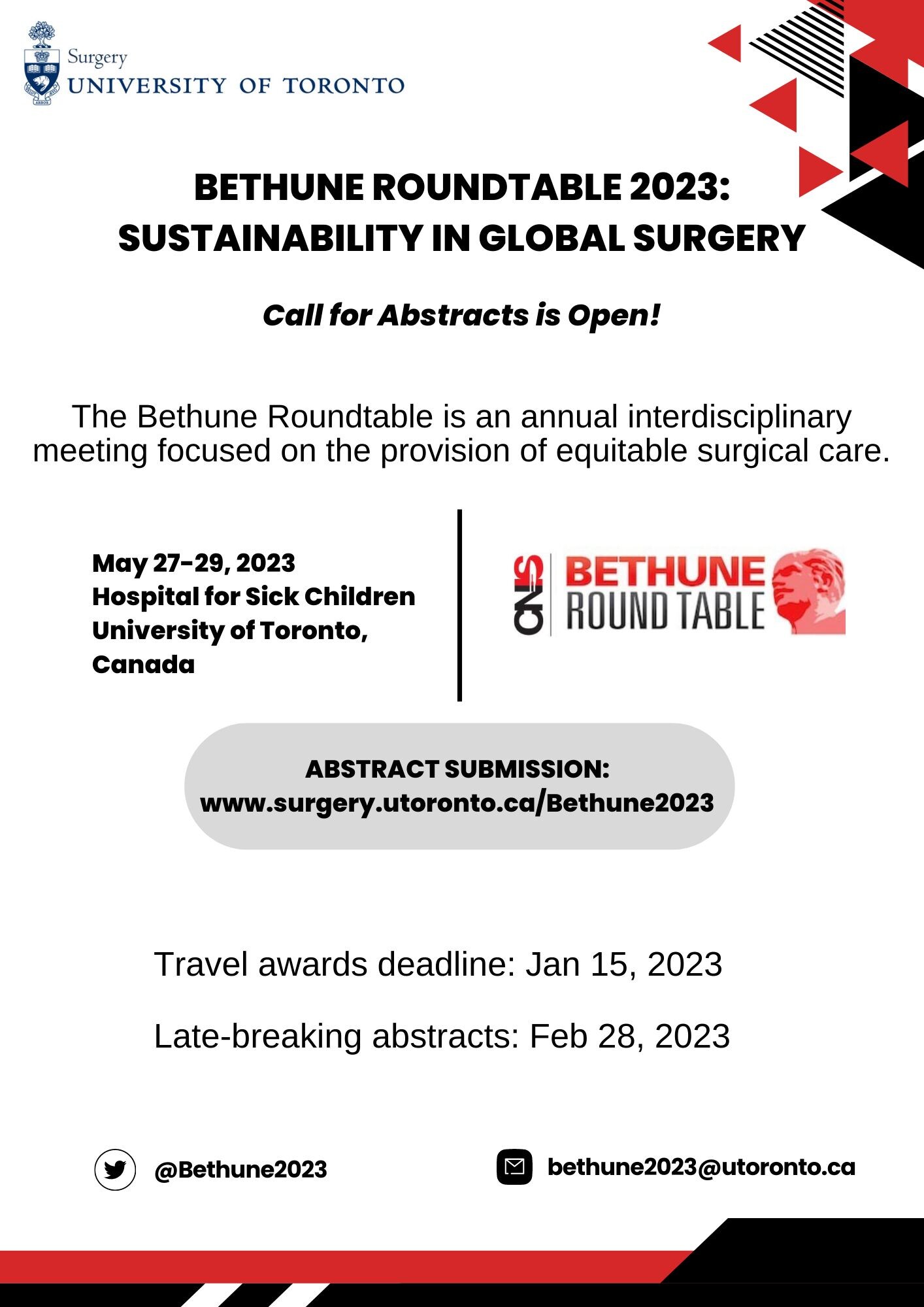 Contact
bethune2023@utoronto.ca